Sensory protective cover
In this joint project, a flexible protective cover of the partner Arno Arnold GmbH is to be expanded with sensor technology. The current state of wear of the protective cover should be diagnosed with the help of the recorded measured values. This makes it possible to reduce maintenance measures to a minimum and at the same time ensure the protective function of the cover.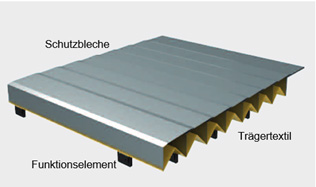 Goals
Sensory detection of the wear condition
Diagnosis of the protective function and a wear reserve
Prediction of the remaining service life
Procedure
Analysis of wear mechanisms in protective covers
Sensor integration in covers
Identification of information-bearing sensor signals
Statistical classification of signals
Classification using AI and machine learning approaches
Partners and project sponsors
This project (HA-Project-No.: 766/19-86) is funded by the LOEWE – Landes-Offensive zur Entwicklung Wissenschaftlich-ökonomischer Exzellenz, Förderlinie 3: KMU-Verbundvorhaben within the framework of the Innovationsförderung Hessen.