Institute of Production Management, Technology and Machine Tools
Otto-Berndt-Straße 2
64287 Darmstadt
You will find the PTW in the Mechanical Engineering Building – there is a huge gear wheel
standing in front of it. Please register at the office, first floor on your right. (Room 108)
Process Learning Factory CiP
Jovanka-Bontschits-Straße 10
64287 Darmstadt
ETA-Factory
Eugen-Kogon-Straße 4
64287 Darmstadt
Motorway:
From motorway A 5 (Frankfurt – Basel) or motorway A 67 (Köln – Mannheim) take exit »Darmstadt« at motorway junction »Darmstädter-Kreuz« follow direction »Darmstadt Stadtmitte« (city centre) then follow the signs to »TU-Lichtwiese«. Driving through the city takes about 15 to 20 minutes. Parking lots are both in front of and behind the building.
From Frankfurt International Airport:
Go to bus platform 14 outside the baggage claim area of terminal 1 on the arrival level or to the bus stop at terminal 2 and take the bus »Airliner«, which goes directly to Darmstadt (travel time about 30 minutes; leaving every 30-60 minutes). Change at the third stop in Darmstadt »Hauptbahnhof« (main station) to bus K, exit at final destination »TU-Lichtwiese«.
Informationen zum HEAG-Airliner: +49 6151 709-4115
From Frankfurt main station:
Take the "Odenwaldbahn SE 65" Direction: Erbach (Odw.) operated by VIAS GmbH to »TU-Lichtwiese«. Follow the path next to the laboratories until you reach the large red gearwheel on your right. Next to the gearwheel you find the building of mechanical engineering.
From Darmstadt main station:
Take bus line K or KU to final destination »TU-Lichtwiese«. The trip takes about 30 minutes, the busses leave every 15 minutes. Bus tickets are available either at the ticket machine or from the bus driver. You will find the PTW at university campus »TU-Lichtwiese« in building no. L1|01 (mechanical engineering), opposite the bus stop. The building can be identified by the large gearwheel in front.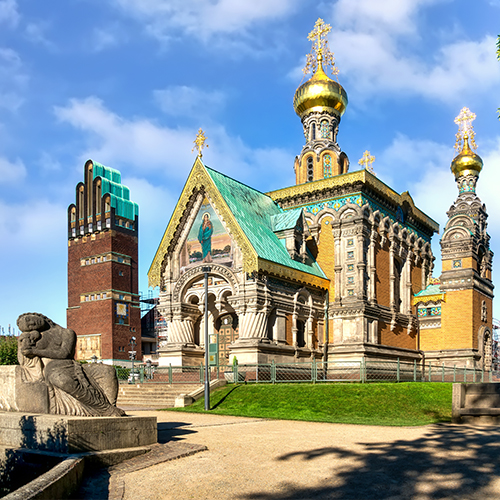 Picture: Adobe Stock
Darmstadt is science, life and culture
Discover Darmstadt with one of the numerous guided tours. The Wissenschaftsstadt Darmstadt Marketing GmbH together with Darmstadt Citymarketing e.V. will gladly provide you with all important and interesting tourist information, accommodation, tips for gastronomy, shopping and sightseeing.